A whole mess of hammers got dropped on Saturday.
This past weekend was the
3rd Annual Psimet Invitational
in Hampshire. This ride is pretty special and big kudos to Psimet who put it together. This ride has been instrumental in a whole lot of riders connecting in our area.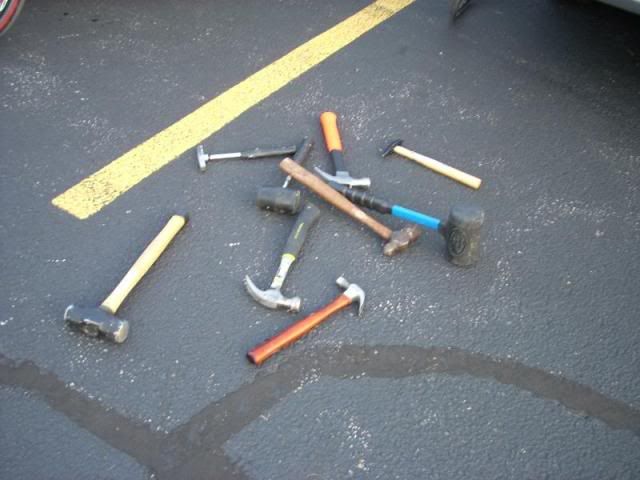 The ride is a three loop progressive century through Kane and McHenry Counties. That is, if you want to ride 100 miles you ride all three loops. If you only want to ride 30- or 60-something miles, pick a loop or two and show up to ride. And though we try to make this a social ride, it tends to get zippy once the jackrabbits hop off the front.
Prelude
A bowl of oatmeal and a couple of cups of coffee and I was out the door for the relatively short car ride to Hampshire F.P. I thought I might ride there, but decided to stamp some carbon footprint and drive.
Cars slowly streamed into the parking lot and Psimet shows up with that annoying Flobots song about handlebars oozing out of his car speakers. And he had a bag of hammers. He dropped the hammers. He's too legit to quit. Go MC Psimet!
The weather was looking wonderful. The first couple of Psimet Invitationals saw riders with arm warmers, wind vests, and knee warmers. This year there was nary a knee warmer in sight and only a few riders sporting arm warmers.
I spent my time snapping some pictures and sandbagging. Honestly, my quads were still smarting from two days prior on the treadmill, which I have not been on since the spring. I wasn't sure how my legs would react, especially with some notoriously fast riders in attendance.
After the requisite photo ops (Psimet taking the pics, so he's not in the group shot…. oops), the motley band rolled out to the north.
Loop the First
There was lots of chatter as the group formed two lines at a steady pace. Shider and ColorChange led the parade and began to ratchet up the pace a few miles in on Briar Hill Road. Alas, the pace was to come to a complete halt as the left line passed over a pothole that caused two flats. I was fortunate to hear Shider holler out "HOLE!" at the last second and I was able to bunny hop the flat causing road cavity.
As the tires were patched, the B group rode by. I could tell they were feeling smug about taking the lead role on the ride. They stayed up there quite a while, too, as after we got back rolling, another tire went flat. This time it was a pinch flat most likely from the same pothole earlier, just a slower leak. So again the A group stopped as Psimet worked his tire changing magic and chided MJH2 the whole way through the change about not lining his tires with baby powder. Hmmm….. I would get that same lecture. Remind me to not let Psimet change my tire until I can throw some Johnson & Johnson's in there.
Again we rolled out, and in jest I took a flyer off the front. Note to self: Don't fake an attack when Shider's around. He will chase. He will pass. He will keep the pedals turning in a very fast manner. ColorChange and aham join the chase, even as I let up. Cripes. I'm in the swim now. Nothing to do but catch a wheel and hang on for dear life. Miracle of miracles, my legs reacted.
We four rolled on at a pretty good clip, mostly because Shider and ColorChange were taking monster minutes-long pulls. aham and I were taking more sane 30 to 60 second pulls. Eventually we see riders up. It's the B group. And one of the KOM points is showing up on the map. Shider powers away thinking he can catch them and take the points, but it was not to be. iab took the points on his 85 year old (or so) steel Cinelli that only has 6 gears (or so) on it. I'm sure he'll tell us about it for a long time to come. Way to go, iab!
The hill down to Marengo was a lot of fun. The four of us followed the map to the marked rest stop and got some goodies from the convenience store (S'mores flavored Pop Tart FTW!). A couple others showed up and then no one else. Huh? A quick call to Psimet finds that they think we have skipped the rest stop and they are waiting down the line. So we caught them and the band wandered through Marengo to get back on track.
I followed Shider up the incline out of town and turned back to only see ColorChange on my wheel. After a stop sign we saw aham hanging 100 meters back and we slackened the pace to let him back onto the four man freight train. From there we powered it back to the F.P.
38 miles at almost 22 mph average. It was a zesty start to the day.
Intermission the First
Rolling back into the lot we were greeted by a few more folks showing up for the second loop. Also The Inquisitors showed up to ride around the lot. Way cool.
Some folks left at that point, but there were some new faces. SmokinMiles and recursive were there. And the 6 to 1 odds laid down by iab that timmyquest wouldn't show up were paid off when TQ rolled in. We'll never doubt him again when he says he might just maybe show up for a BFNIC ride.
More photo ops and the group was out around 11 am for the second loop to the west.
Loop the Second

Another fairly sedate rollout, but as tends to happen, we hit the downhills that happen a couple of times on Kelley Road and the pace nudges up into the mid-20 mph range. With the addition of recursive to the mix, the front of the line is cooking, but this time around more folks are hanging in with the double paceline. It's a wonder how fast riders can go when they are whisked along with the draft.
As we powered down Melms, I was looking for the upcoming turn onto Polk. The street sign for it has miniscule lettering and we were going to miss it. I hollered out that we missed the turn and the group slowed to get back on track. Well, it may have been a blessing that we missed it, as the road was done up all nice in pea gravel for a chip-sealing. In the formation we had I'm guessing at least one person would have gone down in the turn at the pace we were rolling.
We decided to skip the road and cut the loop by a few miles by staying on Melms. In doing so I missed the rabbits rocketing off down the road and splitting the pack in two. I wanted back up there and burned a few matches to catch the first group, pass them, and then try to bridge up to the fast guys. I did catch them, but it was only because they stopped to cross over IL-23. With them stopping the gang was all back together and stayed that way to the rest stop in Genoa.
For the first time I began to notice how hot the day was. Others had already retreated to the shady side of the building. Rolling out with the group, I knew another one of the KOM spots was coming up, but as we crossed back over IL-23, my legs didn't respond. A group of four or five riders took off. I stayed back with the second group as we encountered another stretch of pea gravel road. This time we had no way out, so cranked on. The fast guys were still in sight and I thought I might have one last match to get back up there, so I pulled around, took the point and dug deep. After a few minutes I heard Psimet telling me to peel off the point. That was it for my speed for the day.
Unfortunately we were still on the gravel as the road took a left turn. I was at the back and watched almost everyone whoa up to take the bend nice and slow. Unfortunately voldemort didn't whoa up quite enough and he ended up in a deeper pile of rocks. Out from him went his wheels and down he went. His left arm was scraped pretty bad and he knocked his head on the 'pavement' but otherwise was in good enough shape to keep on going. Thankfully nothing broken. Helmets are good.
So we rambled on back down Allen Road and when we got to Hampshire my legs just completely bonked out. I let a few folks around and told them to go on, that I was going to 'cool down' the last couple of miles. Ha! It was less a cool down and more a struggle. No more matches in the book as I limped back to the lot.
29 miles at 19.8 mph. For bonking, that's pretty zippy. Hurrah for drafting!
Intermission the Second / Postlude
I was wiped out and ready to go. Thankfully I had already planned to skip the final loop due to a prior engagement. The folks heading out for the final loop all looked a bit knackered, as well. If I read ColorChange's stats right, this loop ended up being a touch slower than the first two.
As I headed home I took a little detour to Wendy's for a double cheeseburger recovery meal. I made sure to give aham a call with the information and tempt him to stop at a Wendy's to get the same corrupt meal. He needs more fast food in his diet. I mean, what else to keep one fast on the bike but
fast
food, yeah?
A great day. A great ride. Again, big props to Psimet. Can't wait for the 4th Invitational!