I guess 20 years since Kirk Gibson hobbled into baseball lore have pent up some frustration at Chavez Ravine, but this is ridiculous:
And with less World Series titles in their ignominious history than the Cubbies, Connie Mack's descendants had some unwinding to do: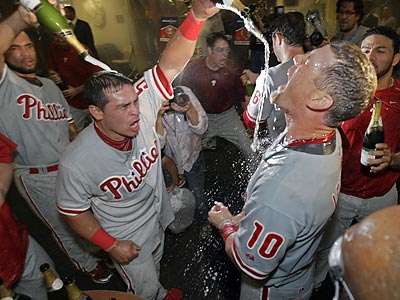 Come on here, people. You just won a DIVISION SERIES.

This is not winning any kind of championship. It's like a team cutting down the nets after the second round of the NCAA basketball tournament.

At least win the LCS before saying you won something, yeah? And even that's like cutting down the nets when reaching the Final Four. It's kind of premature.
Weird thing is, a team will cut down the nets when making the Final Four, but not when they win the National Semifinal game.

The sporting world is strange, but I bet the sparkling wine lobby surely smiles upon the MLB's six division titles, wild cards, and three tiered playoff system.

I say we just stop keeping score and give them all trophies for participating. And then go out for pizza afterwards and celebrate our good sportsmanship.